Supported by: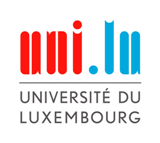 University of Luxembourg
Mathematics Research Unit




General Information
The June 2012 meeting of the Seminar Sophus Lie will take place at the University of Luxembourg, Campus Kirchberg, room C02.

The scientific programme will start at 9 a.m. on Friday, June 15, 2012 and last till Saturday, June 16, 2012 around noon. The detailed programme can be found under the following link: programme.

The Seminar Sophus Lie is an international seminar of mathematicians interested in the theory of Lie groups and their wider horizon. It was founded around 1989-90 when, during the Volkskammer Government of the German Democratic Republic in 1989, open contacts between mathematicians in East- and Westgermany became a reality for the first time since 1961. Several mathematicians located at the Technische Hochschule Darmstadt, the University of Erlangen, the University of Greifswald, and the University of Leipzig organized informally the Seminar with financial support by the Deutsche Forschungsgemeinschaft and met for the first seminar session at the University of Leipzig in January 1991. The Seminar usually meets once a semester since that time. Over the years the seminar had participants from more and more countries, e.g. Austria, France, Hungary, Poland, and Romania.

More information on the history of the Seminar Sophus Lie and the related Journal of Lie theory, including links to the program of former meetings see Seminar Sophus Lie.

Organisers
Martin Olbrich (Luxembourg)

< martin.olbrich (at) uni.lu >

Oleksandr Iena (Luxembourg)

< oleksandr.iena (at) uni.lu >

Carine Molitor-Braun (Luxembourg)

< carine.molitor (at) uni.lu >

Martin Schlichenmaier (Luxembourg)

< martin.schlichenmaier (at) uni.lu >
Speakers
Jørgen Ellegard Andersen (Aarhus)
Wolfgang Bertram (Nancy)
Pierre Bieliavsky (Louvain)
Simone Gutt (Brussels)
Xiaonan Ma (Paris)
Christoph Wockel (Hamburg)
Jonathan Pfaff (Bonn)
Friedrich Wagemann (Nantes)
Cornelia Vizman (Timisoara)
Werner Müller (Bonn)
---
---