The conference will be held at Campus Kirchberg of the University of Luxembourg.
How to reach the Campus Kirchberg
Talks of the first two days (9-10 Dec.) will be held in the "Salle des Conseil", block A.
On the third day (11 Dec.) we move to the room B-17.
Both rooms are equipped with a multimedia projector and blackboards.
Registration
Registration for the workshop will take place in the main building of Campus Kirchberg, next to the main entrance, 9:00-9:30 on the morning of Wednesday, December 9th.
You can pick up your badges and folders. Coffee will also be provided.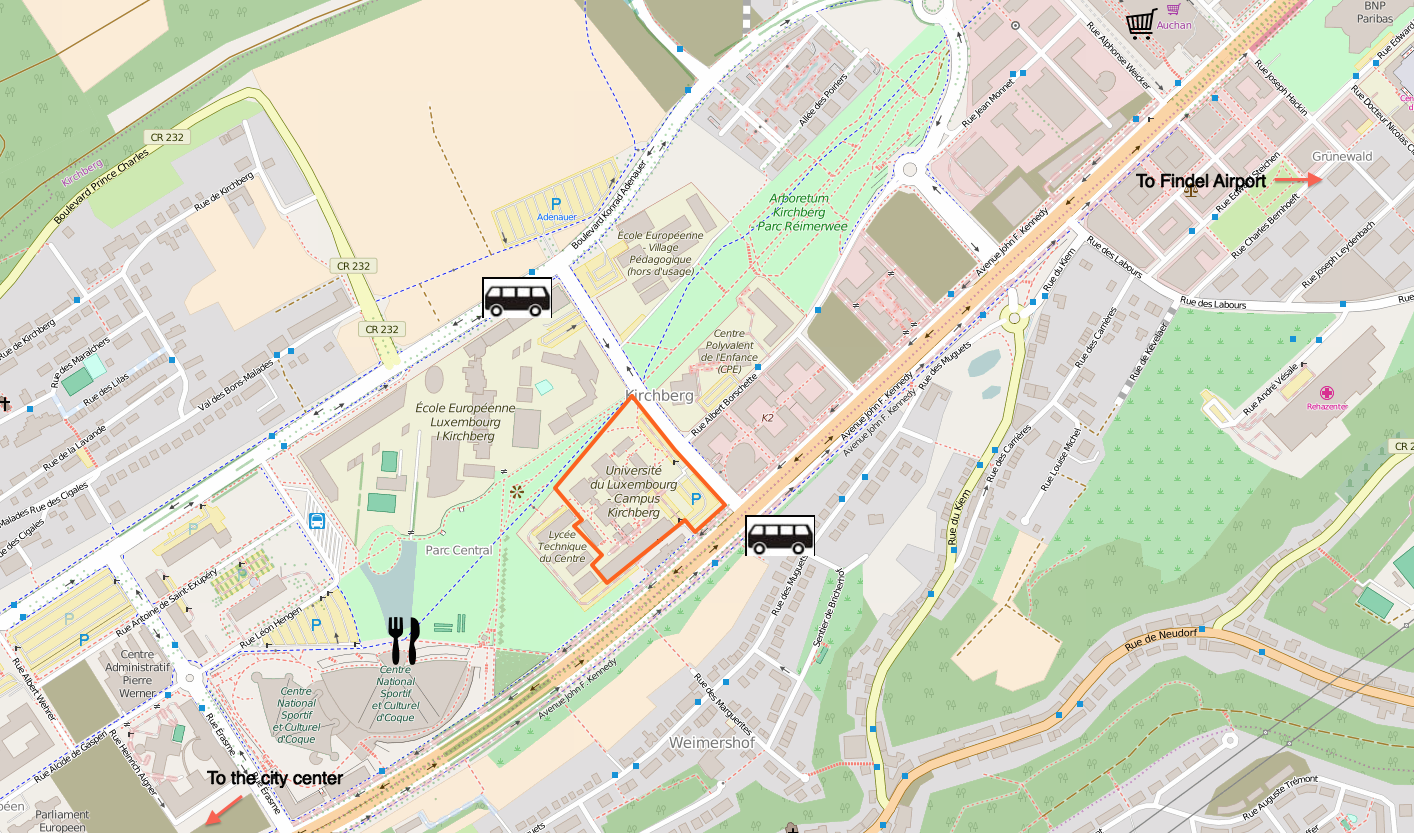 Travel
By plane
Luxembourg airport is connected by regular flights to all main destinations.
The Bus line 16 takes you quickly to the campus (bus stop Coudenhove-Kalergi)
or to the city center.
A regular bus service connects the train station to the Frankfurt-Hahn airport (Germany)
and to the Brussels(South)-Charleroi Airport (Belgium), which are served by low-cost
flights to many European destinations.
By train
See the websites of the Luxembourg rail company CFL, or SNCF, or Deutsche Bahn.

Many bus lines take you directly to the campus:
lines 1 and 16, bus stop "Coudenhove-Kalergi"
or line 18, bus stop "Konrad Adenauer" (+ a 5 minutes walk).
Local information
Food
Below is a list of local restaurants frequented by us and our colleagues:
Near the
train station / city center:
- Bella Napoli (Italian), 4, rue de Strasbourg.
- Namaste (Indian/Nepalese), 19, rue de Strasbourg.
- Ruby Café (Portuguese), 70, rue de Anvers.
- Va Piano (pizza, pasta, salads), 28-32 Place de la Gare.
Kirchberg
area:
- Va Piano (pizza, pasta, salads), 44, Ave. John F. Kennedy
- Auchan Luxembourg (shopping center with restaurants), 5, rue Alphonse Weicker
Both of these places are right next to the bus stop "John F. Kennedy", which is served by numerous buses, including lines
1
and
16
Accomodation
A list of hotels in Luxembourg is available here. There is also a youth hostel.
Other helpful links