We are very honoured to give our support to Pascal Zeihen (IMO team leader), Mike Dostert (IMO team deputy leader), Bernard Felten (BxMO team leader), and Pierre Haas (EGMO team leader) for their work to promote mathematics.
Who we are: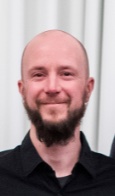 He studied Mathematics in Germany at the University of Trier, where he graduated with a PhD in 2011. He then became a postdoctoral researcher at the University of Luxembourg in the domain of Geophysics, before he joined the Scienteens Lab in early 2017, where he is responsible for the workshops in Mathematics.
At the Scienteens Lab, one of our main goals is to arouse young people's interest for mathematics. By joining the Maths Team and supporting this online training course, I hope to make a further contribution to motivating pupils for this beautiful subject!